Gemstone Pendants: A Perfect Gift For Any Occasion
Looking for the perfect gift can be both exciting and tiring. Exciting initially and tiring eventually because, in the beginning, you start thinking about all the ideas enthusiastically. But after a while, when you don't arrive at a conclusion, all of it becomes daunting. And then, you end up choosing a gift just for the sake of it. Let me suggest to you the perfect gift, something that you can present to your special someone on any occasion – a gemstone pendant. 
Gemstone pendant necklaces make fantastic gifts and are a perfect fit for every occasion. Exuding elegance and charm, gemstone pendants necklaces more than merely serve the purpose of gifting. While jewelry gifts already hold a sentimental value, you can still personalize a necklace to make it a more unique, memorable, and meaningful gift. Let us learn more about what makes necklaces the perfect gift for any occasion.
Great keepsake
Gemstone pendant necklaces are beautiful jewelry pieces and the best option when you want your present to always remind the recipient of you. We've seen it in the movies, and it looks so full of love and romance – putting a necklace around your beloved's neck. The feeling of putting a pendant necklace around her neck and gently tying it while looking into her eyes in the mirror is an experience to cherish forever. Even the idea of it excites curiosities and unfathomable emotions. Gemstone pendant necklaces are the ideal keepsakes that showcase your love incomparably.
A personal touch
Pendants offer a lot when it comes to adding a personal touch. It's one of the most substantial reasons why gemstone pendant necklaces make great gifts for every occasion. From selecting the center stone to the metal and style, gemstone pendant necklaces offer many customization options. You can gift your lady a bespoke necklace on any occasion based on her liking, aura, and personality, and it will always feel special.
Suits every outfit
Gemstone pendants can effortlessly elevate any type of outfit. Be it a casual evening with friends, a candlelight dinner with the love of your life, or an office meeting, a classic gemstone necklace pendant can enhance your appearance dramatically. The glittering glow of gemstones works well with all kinds of outfits – jeans and a t-shirt for a casual outing, an off-shoulder dress for a candlelight dinner, etc.
(A lady in a casual dress wearing a gemstone necklace pendant)
Timeless charm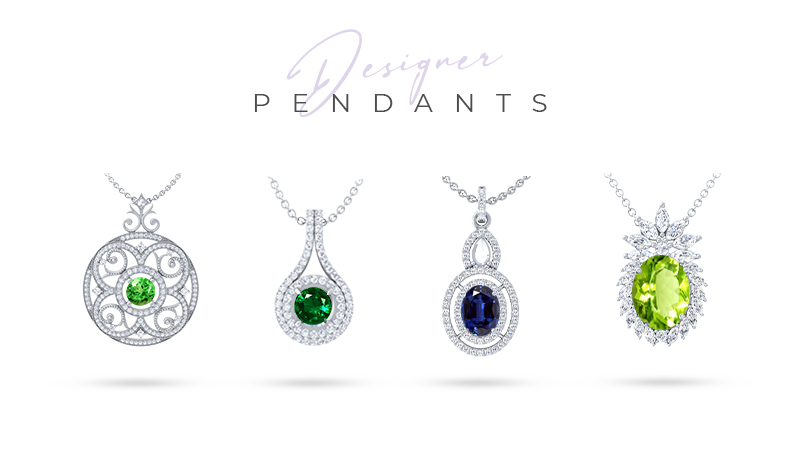 A gemstone necklace pendant best describes your sensitive and eternal feelings of love. Apart from that, it's an appropriate option when you want to gift something sustainable. With frequent cleaning and care, a gemstone necklace pendant can last a lifetime. It will maintain its timeless charm and elegance as the two of you grow older together.
Conclusion
While you can never go wrong with a gemstone necklace pendant, considering her style before choosing a piece for her is of the essence. And while you're at it, do have a look at GemsNY's gorgeous collection of gemstone necklaces. Out of the many captivating jewelry pieces, there's no doubt you'll find the one that best suits her. You can even personalize a gemstone necklace pendant at GemsNY. After all, a custom-tailored necklace is beyond comparison.